Unbreakable family bonds
Unbreakable family bonds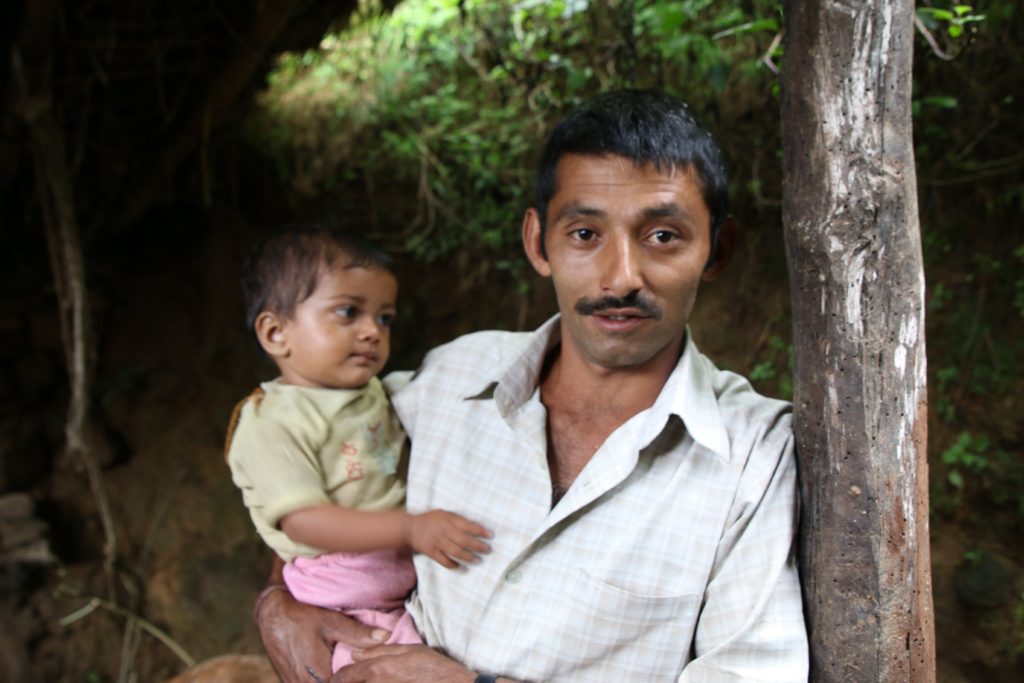 Kumar knows a thing or two about setting priorities. Since his life crashed down around him during the earthquake five months ago, he has worked tirelessly. His focus has been on restoring a sense of safety and home for his family. Kumar is just 35 years old, but he supports a family of 9, including his mother, father, wife, daughter, son, brother, sister-in-law, niece and nephew.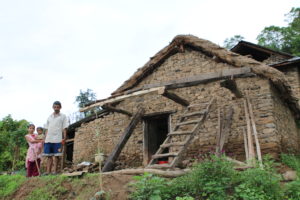 When we met him as we walked through the village, his young daughter was following him, carrying her brother-in-law in her tiny arms. The bond between family members was obviously strong – and it seemed the children possessed a maturity of spirit that belied their young years.
Kumar told us, "After our house fell, I needed to rebuild right away. There was no good shelter for us. For a while, our whole family slept on the roadside with just one tarp. But I am so thankful we had a few tools. They became very useful, not only to tear down the damaged parts of our home, but also to help us rebuild, which as you can see we are still doing." When Kumar gestured for us to look up, his father, who was busily hammering on the roof of the newly repaired structure, waved and smiled.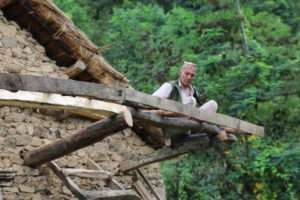 "We are building now in stone and mud again, because that's what we have available. I think it was important for us to do this rather than live in a shelter for now. We will simply rebuild again when the Government's construction rules are finally posted. In fact, it is necessary for us to rebuild again, since the space in this home is not enough for the whole family."
As Kumar walked us through the ground floor of his repaired home, he proudly showed the small sleeping quarters, kitchen and livestock area (with one water buffalo, two goats, and two chickens) at the back. I was amazed by the obvious effort that had gone into salvaging housing materials and creating usable space in the damaged home. I was also impressed by the determination and gentle acceptance that Kumar demonstrated – having spent so much effort to rebuild once, knowing that he would have to do it again soon.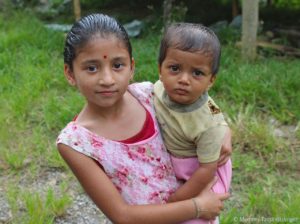 Indeed, Kumar is an example. He shows that the families of Nepal are setting their sights on the future. They are prioritizing each other and looking forward with determination in their hearts, despite the struggles and losses they have experienced. Although they have weathered one of life's storms that most of us will never endure, they are ready to tackle the long road to recovery.
For me personally, the voices in Nepal keep me grounded. They remind me that "survivors" are more than statstics, and "rebuilding" means more than wood and stone.
~~~~~~~~~~~~~~~~~~
[I wrote this story on September 25, 2015 in reflection of relief distribution trip to Bhotechaur – a small, mountainside village in the very remote outskirts of Sindhupalchok District. At that time, I was working with Medair, a disaster relief agency, and I was based in post-earthquake Nepal.]