Serengeti dreaming
Serengeti dreaming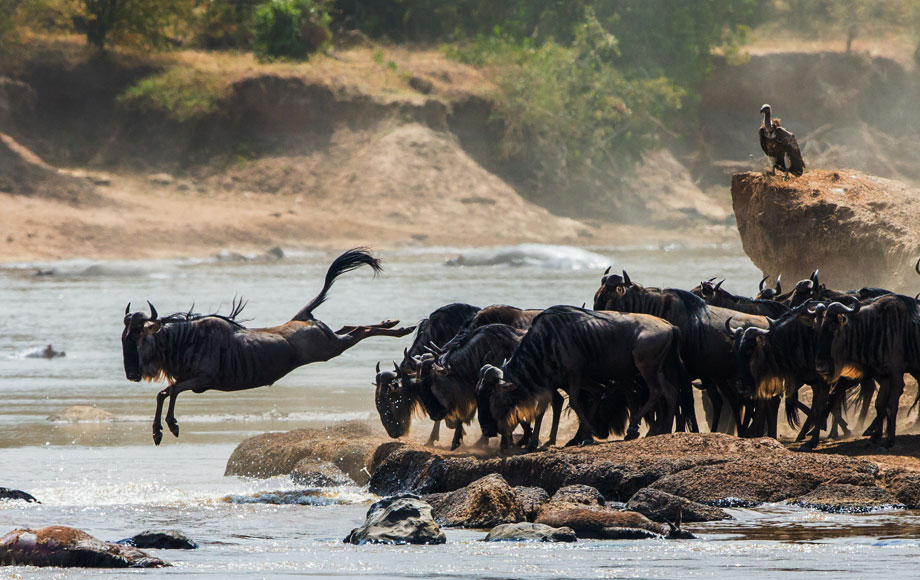 For several weeks, I left everything behind. Armed with just a sleeping bag and a friendly guide, I embarked on a surreal journey into Tanzania's wilderness…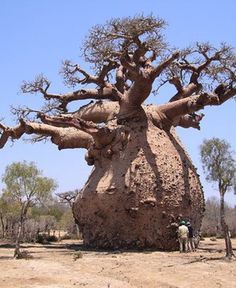 First we visited Tarangire National Park, occupying 2600 square kilometers of wilderness in the Rift Valley. Beautiful Taranguire is otherworldly in its endless presentation of ancient Baobab trees and wildlife. Baobabs are unique and stark, almost fairytale in appearance. These trees feature an almost leafless crown of sharpened branches emerging from a characteristically tall, wide trunk, sometimes as large as 30 meters in diameter. Baobabs are some of Africa's finest offerings, especially when appearing alongside the more delicately structured Acacia, and of course, a free-roaming array of elephants, zebra, wildebeest, elands, gazelles, giraffes, water buffalo and impala.
After several days of camping in Tarangire, we ventured onward to Ngorongoro Crater. Ngorongoro is considered one of the world's natural wonders, and was formed some 2.5 million years ago by the collapse of a volcano. The volcanic collapse caused a crater, 600 meters deep and 20 meters wide, which is now the world's largest unbroken and unflooded caldera. Because there is permanent water and grassland on the crater floor, the crater contains 25,000 to 30,000 large mammals in constant movement, despite the steepness of the crater walls. From the rim of the crater, the animals appear as specks of dark motion against a backdrop of ethereal blue-green expanse.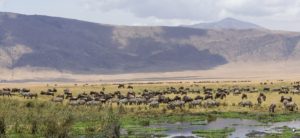 Indeed, the descent into, the exploration of, and the ascent out of Ngorongoro Crater is an exhilarating but humbling experience – definitively reminding you of your limited influence and significance in the much grander scheme of things.
Which brings me to the Serengeti… the beautiful Serengeti. For someone who has dreamed of Africa since childhood, my days spent in the vastness and wilderness of the Serengeti plains almost singularly provided the fulfillment once sought. The Serengeti reveals its beauty and its power simultaneously, delighting you with an astonishing array of wildlife and then humbling you with its raw and unrelenting terrain.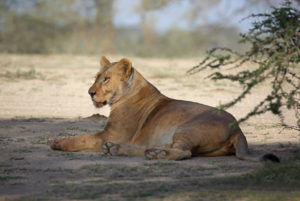 You learn quickly that the Serengeti is a harsh environment, where the animals are forced to structure their days according to the cycles of heat and shade (or lack thereof) that occur dramatically from morning until night. The fresh and eager morning grazing and activity of the animals turns to a somber stillness and search for shade during the (almost unbearable) noon-time heat – for several hours each day animals are forced to cluster desperately around the sparse and tiny circle of shade cast by each un-generous tree, and they remain as such for hours, panting, as the plains around them bake and swell in the sun.
Then, as night falls and the plains cool, life and activity burst forth as herds begin to move, to play, to bathe, and to hunt. It is as the sun sets in unforgettable shades of pink, purple, orange and red through the black silhouettes of the Acacias that the Serengeti comes alive with movement and sound. (In fact, like the sound of the ocean, the danger cries of zebra and the hunting sounds of hyenas provide some of the most unforgettable night-time sounds that I've ever known as lullaby.)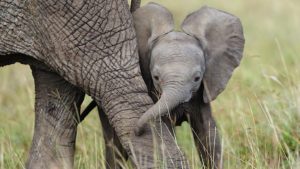 Needless to say, in a span of mere days, I managed to fill my heart with memories and my camera with photos of the most wild and natural scenes I've ever encountered. Even as I review my photos now, and relive my memories, I feel that I have been "permitted" by nature herself, to have temporarily resided so close to these incredible beasts that I could hear them, see them, smell them, and had I been so bold (and foolish) reached out and touched them.
~~~~~~~~~~~~~~~~~~
[This is an excerpt from a journal I kept while working in Tanzania years ago. I lived and worked in a small town at the foot of Mount Kilimanjaro called Moshi. This specific journal entry was written on December 29, 2005.]